Alumni Notes
This section reflects notifications received between January 1 and August 31, 2021.
Class of 1966
The Tenth Circuit Historical Society has published an oral history of Harold A. "Hal" Haddon '66, a renowned trial lawyer and founding member of Haddon, Morgan and Foreman in Denver, where he is now special counsel. Among the topics Hal discusses: growing up on a Michigan family farm; his recruitment to Duke by Dean Elvin R. Latty out of a master's program at the University of Michigan (on the recommendation of his Albion College roommate Charlie Campbell '65); his engagement with the civil rights movement in Durham during law school; his work as one of Colorado's first state public defenders; and his political engagement with the presidential campaign of Robert F. Kennedy and managing two successful Senate campaigns for Gary Hart. Hal also discusses his storied career in private practice representing such individual and corporate clients in high profile criminal and civil litigation as Kobe Bryant, Hunter S. Thompson, the family of JonBenét Ramsey, and the corporate manager of the Rocky Flats Nuclear Weapons Plant. The oral history is available in video and print formats at 10thcircuithistory.org/halhaddon. 
1969
Charles Becton received a 2021 Distinguished Service Award from the Samuel DuBois Cook Society at Duke University, which recognizes, celebrates, and affirms the presence of African-American students, faculty, and staff at Duke. From Duke Today: "Charles Becton was a trailblazer advocating for racial and social justice on many fronts: as a member of the N.C. Court of Appeals, as a noted law professor, and as the first African-American man to hold the position as president of the North Carolina Bar Association."
---
1972
Ron Frank has founded The Law Offices of Ronald W. Frank in Sewickley, Penn. He previously was partner and senior counsel at Blank Rome in Pittsburgh.
John Wester has received the Advocate's Award, the highest honor given by the North Carolina Bar Association's (NCBA) Litigation Section. The award is presented as merited, rather than annually, and "honors litigators who have high ethical standards, possess great skill and ability, demonstrate commitment to the highest level of service and to their clients, and exhibit respect of and love for the law," according to the NCBA. John, a business litigator in the Charlotte office of Robinson Bradshaw, is also the 2021 recipient of the NCBA's Citizen Lawyer Award, which "recognizes and thanks lawyers who, in addition to their legal work, exemplify the ideals of a citizen lawyer by volunteering their time for worthy community or civic causes to improve the quality of life of those in their local or statewide communities."
---
1973
Ward Greene has joined the Portland, Ore., firm of Farleigh Wada Witt as senior counsel. He has a varied transactional and litigation practice with a focus in commercial law, business reorganization, bankruptcy, collections, employment law, and real estate matters. Ward is the founder and president of SAGE (Senior Advocates for Generational Equity), a Portland-based nonprofit organization inspiring people over 50 to give of their time, talent and passion to help future generations thrive.
---
1974
Curtis Collier has been honored with the establishment of an endowed scholarship in his name at Tennessee State University. Judge Collier has served since 1995 on the federal bench as judge on the U.S. District Court for the Eastern District of Tennessee. He served as chief judge of that court for seven years, taking senior status in 2014.
Karen Bethea-Shields received a 2021 Legal Legends of Color Award from the Minorities in the Profession Committee of the North Carolina Bar Association (NCBA). A longtime criminal defense lawyer and one of the first three Black women to graduate from Duke Law, Karen's first case — immediately on passing the bar — was the successful defense of Joan Little, a young Black woman who became the first woman in United States history to be acquitted using the defense that she used deadly force to resist sexual assault. Karen was the first woman to be elected to a judgeship in Durham County; she served on the bench from 1980 to 1986. In an NCBA video, she advised attorneys of color to "never lose their passion for justice" and to always care about their clients. Ensuring the justice system "really becomes just for everyone" remains her goal, she said.
---
1976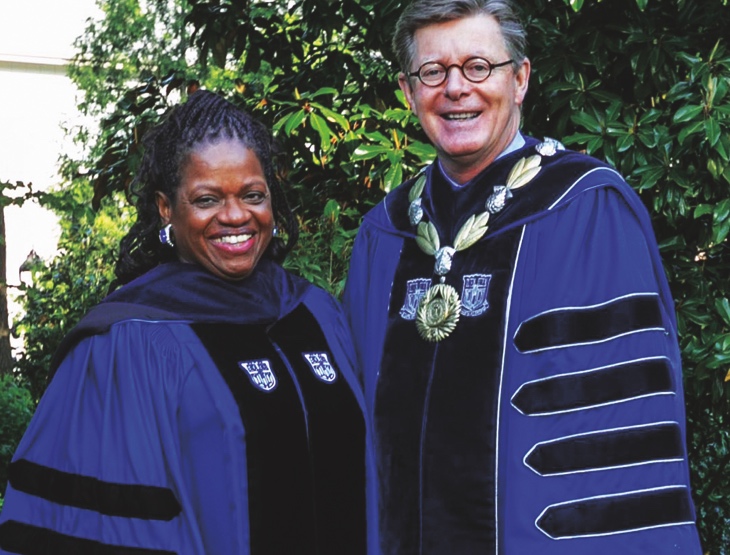 Barbara Arnwine, the president and founder of the Transformative Justice Coalition, received the honorary degree of Doctor of Laws from Duke University during Duke's 2021 commencement ceremony on May 2. President Vincent Price (at right) highlighted her contributions to critical justice issues such as the passage of the landmark Civil Rights Act of 1991 and the 2006 re-authorization of provisions of the Voting Rights Act, as well as her vocal advocacy for diversity programs, the preservation of affirmative action, and equitable practices across a wide range of areas. Barbara has served as executive director of the national Lawyers Committee for Civil Rights Under Law, organized the national conference on African-American Women and the Law, serves as co-chair and facilitator of the National Commission for Voter Justice and the Voting Right Alliance, and is on the boards of directors of MomsRising and the African-American Policy Forum.
---
1979
Michael Bellinger has joined Schiff Hardin's white-collar defense and government investigations practice group as a partner in the New York office. He was previously co-chair of the internal investigations and white-collar defense group at Carter Ledyard & Milburn.
Richard Gergel's critically acclaimed book, Unexampled Courage: The Blinding of Sgt. Isaac Woodard and the Awakening of President Harry Truman and Judge Waties Waring (Farrar, Straus and Giroux 2019), was the basis of a recent PBS "American Experience" documentary titled "The Blinding of Isaac Woodard." Judge Gergel, of the U.S. District Court for the District of South Carolina, received the Duke Law Alumni Association's 2021 Charles S. Murphy Award for Achievement in Civic Service.
---
1980
Justin Klimko, president and CEO of Butzel Long, has received the Association for Corporate Growth (ACG) Detroit Lifetime Achievement Award. The award was presented as part of ACG Detroit's Annual M&A All Star Awards. Justin is a board member and secretary of ACG Detroit.
Andromeda Monroe has been appointed chair of the Senior Lawyers Committee of The Florida Bar for a one-year term. She has a solo practice in the Miami-Ft. Lauderdale area.
---
1984
Gary Jack has been recognized by West Virginia Executive Magazine and West Virginia College of Law as an inductee into the Lawyers & Leaders Class of 2020. Gary is senior corporate counsel for FirstEnergy, an electric utility spanning six states, and practices regulatory, real estate, litigation, and general corporate law.
---
1986
Kathleen Byrnes was named vice president for student life at Villanova University on April 1, having previously served as associate vice president for student life. During her 30-year tenure at Villanova she has worked to progress campus-wide initiatives, assist departments with student-related work, aid student organizations, and build leadership programs. Kathy also is board chair of the Association of Student Affairs at Catholic Colleges and Universities.
Brent Clinkscale has been elected president of the Atlanta International Arbitration Society. Brent is an independent arbitrator and managing member of Clinkscale Legal & Global Dispute Resolution, headquartered in Greenville, S.C.
David McKean's new book, Watching Darkness Fall: FDR, His Ambassadors and the Rise of Adolf Hitler, will be published by St. Martin's Press in November.
---
1987
Rob Harrington, chair of Robinson Bradshaw's litigation department, has been included on Business North Carolina's 2021 Power List. Rob, who is based in Charlotte, also serves on the firm's diversity and inclusion and recruiting committees. He is the past chair of the Charlotte Mecklenburg Library's board of trustees and is co-chair of the library foundation's CommonSpark campaign for the new main library campus.
---
1989
Yibing Mao has been appointed to the board of Las Vegas Sands Corp. She previously was chief legal counsel of Marriott International in the Asia Pacific.
Kenneth Remson has joined Goldberg Segalla as a partner in the firm's global insurance services group in Los Angeles. He was previously with Woolls Peer Dollinger & Scher in Los Angeles and was a deputy attorney general for the state of Hawaii in the Civil Recoveries Division.
---
1990
John DeGroote, founder of Dallas-based DeGroote Partners, has been named a 2021 inductee into Lawdragon's Hall of Fame. DeGroote Partners handles the mediation of complex business disputes.
John Hairr has been elected chair of the North Carolina Wildlife Federation's (NCWF) board of directors. John has served on the NCWF's board and its executive committee since 2017. He also chaired its governance committee from 2015 to 2020. John is a partner in the Charlotte office of Parker Poe Adams & Bernstein.
Charlie Lucas, managing member of Pope Flynn in Charlotte, N.C., has been elected as a trustee of the Mary Duke Biddle Foundation, which supports education and the arts in the Triangle region, as well as at Duke University.
Drew Rosenhaus, the co-founder and CEO of Rosenhaus Sport Representation in Miami, was featured in conversation during the first event of the 2021 symposium of the Duke Law Sports and Entertainment Law Society on April 9. He is a frequent national commentator on sports issues.
Rhonda Tobin has been elected managing partner at Hartford, Conn.-based Robinson+Cole. She is the first woman to lead the 175-year old firm. A trial lawyer, Rhonda has spent her entire law career with the firm, where her practice focuses on the litigation, arbitration, and mediation of complex disputes involving insurance and reinsurance coverage. She was recognized by the National Law Journal as an "Insurance Law Trailblazer" in its inaugural listing in 2021.
---
1991
Darla Pomeroy has been named senior advisor, Office of Domestic Finance at the U.S. Department of the Treasury. She earlier served as senior advisor for special situations for the Biden-Harris transition team. Darla has extensive domestic and international finance experience as an executive in the communications industry. She was a co-owner and senior vice president of corporate development at Edge Wireless, where she negotiated its successful sale to AT&T.
Dara Redler has been named interim chief legal officer and corporate secretary at the Canadian cannabis company, Tilray, following its recent merger with Aphria, a grower and consumer packaged goods manufacturer. Dara joined Tilray as general counsel in 2019.
Joel Reed has joined the board of trustees of The Christian Chronicle. He is executive vice president and general counsel for Stanley Martin Homes in Reston, Va.
---
1992
Norman Petty has been named general counsel of The Meet Group, owner of several mobile social networking services, headquartered in New Hope, Penn. He leads the legal team as well as the trust and safety team. Norman previously spent 25 years as a lawyer for Dow Jones advising its consumer division.
Geovette Washington, senior vice chancellor and chief legal officer at the University of Pittsburgh, has been elected chair of the board of trustees for the Carnegie Museums of Pittsburgh, which oversees four major museums in the city: the Carnegie Museum of Art, Carnegie Museum of Natural History, Carnegie Science Center, and the Andy Warhol Museum. Geovette is the first Black person in the history of the institutions to head the museums board, which she joined in 2017.
Don Willett (JD/MA '92, LLM '16), a judge of the U.S. Court of Appeals for the Fifth Circuit, delivered the 2020 B. Kenneth Simon Lecture at the Cato Institute's annual Constitution Day symposium. He discussed how Americans' civics illiteracy imperils the rule of law. He published an article, "Supreme Stalemates: Chalices, Jack-O'-Lanterns, and Other State High Court Tiebreakers," 169 U. Pa. L. Rev. 141 (2021), which examines how state supreme courts use various substitute-justice mechanisms to avert or break legal logjams. He has also joined the Baylor University Board of Regents.
---
1993
Adam Cohen has been named interim president of the Oklahoma Medical Research Foundation (OMRF). He joined OMRF in 2002 and has served as its chief legal officer since 2004. For the past 13 years, Adam held the title of senior vice president and general counsel, overseeing a variety of functions that currently include technology ventures, public affairs, safety, and comparative medicine.
David Ross has been named chair of the international trade, investment, and market access practice group at WilmerHale in Washington, D.C. He is also a member of the firm's public policy and legislative affairs practice group.
---
1994
Elizabeth Barry has joined the Martha Newman Realty Group as a broker/realtor based in Chapel Hill, N.C.
David Lewis has been named managing partner of the Phoenix office of DLA Piper, where he is a corporate and securities lawyer.
Sterling Spainhour has been elected as an independent director to the board of directors of Gray Television, Inc. Sterling is senior vice president, general counsel and corporate secretary, and chief compliance officer for Georgia Power, where he oversees corporate governance, corporate compliance, risk management, security and legal services functions, and serves on the company's management council.
---
1995
Natalie Sanders has been selected as one of the Triad Business Journal's "Outstanding Women in Business" (2021). She is of counsel in the Greensboro, N.C., office of Brooks Pierce.
---
1996
Marcel Imery has been named director of business development at JTC Group's New York City office, where he provides structuring services to private and corporate clients across U.S. and Latin American markets. He earlier co-founded and co-managed a top-tier law firm in Venezuela.
Darren Jackson has been appointed by Gov. Roy Cooper to a vacancy on the North Carolina Court of Appeals. Darren has served over a decade in the N.C. House of Representatives, including two terms as the minority leader. He also served on the N.C. Sentencing Commission and the N.C. Courts Commission.
---
1997
Odetta MacLeish-White has been named director of Georgia initiatives by the Center for Community Progress, tasked with designing and implementing strategies to help stabilize neighborhoods and grow urban and rural communities across Georgia. Odetta is a long-time community development leader and former managing director of the TransFormation Alliance.
Alan Whitehurst has joined the Washington, D.C., office of McKool Smith as a principal. He is a trial lawyer specializing in intellectual property and unfair competition cases. He previously practiced at Quinn Emanuel Urquhart & Sullivan.
---
1998
Rob Bryan has been elected to a four-year term, beginning July 1, as a trustee of the University of North Carolina Board of Trustees. He recently started Break Bread Ventures, a franchisee of Slim Chickens, with two partners and serves as the executive vice president for development, legal, and people. He was previously a partner at Womble Carlyle, and chief development officer of Cardinal Innovations Healthcare Solutions.
Niles Bryant has been promoted to senior vice president and chief investment officer at Bowdoin College with responsibility for its $1.8 billion endowment. He joined the Bowdoin staff in 2020 as director of investments. He previously was an attorney and investment professional for the Gordon and Betty Moore Foundation and the Carnegie Corporation.
---
1999
Michael Anstett has been elected partner at Fried, Frank, Harris, Shriver & Jacobson, where he is a member of the litigation department and government contracts practice resident in Washington, D.C.
Chad Burkhardt has been named the first general counsel at Dallas-based hemp processor Generation Hemp, Inc. Chad previously was vice president, general counsel, and corporate secretary at Transatlantic Petroleum, Ltd.
Michael Chiaravalloti has joined private equity firm RedBird Capital Partners as counsel and chief compliance officer. He previously spent 15 years with J.P. Morgan's alternative investment group.
Alan "Trip" MacCracken has joined the NFL's Jacksonville Jaguars as director of roster management. Trip is in his 20th season with the NFL, last serving in the league from 2010 to 2017 as the director of football administration for the Kansas City Chiefs. He served as the director of player personnel for the XFL's New York Guardians from 2019 to 2020.
John Shepherd, former director of legal policy at the Federal Energy Regulatory Commission, has joined Hunton Andrews Kurth as a partner in the firm's energy and infrastructure team. Based in Washington, D.C., his energy regulatory practice focuses on rulemaking proceedings, litigation, investigations, and appeals.
---
2000
Sarah Schott has joined the health benefits company Gravie as general counsel and chief compliance officer. She previously was the chief compliance officer at Northwestern Mutual.
---
2001
David Borde is leading the utility strategy and regulatory efforts of Entergy Corp. and managing transformation intiatives across the company's five utility operating companies. David joined Entergy in 2009 and has held leadership positions in corporate development and finance.
Collin Cox has joined Gibson, Dunn & Crutcher as a partner and leads the firm's ligitation practice in Houston. He was formerly a partner with Yetter Coleman.
Carol Lin (LLM '01, SJD '05) has been elected chairperson of the Board of Directors of Taiwan's Financial Ombudsman Institution, which oversees financial dispute settlement and financial education. She remains a full-time faculty member at National Yang Ming Chiao Tung University School of Law in Taiwan.      
---
2001
Brad Whitehurst has been elevated to chief financial officer of Energy Transfer. He joined the company in 2014 and has served as executive vice president and head of tax and managed the company's information technology and business optimization divisions. He also serves on Energy Transfer's investment committee and is a director of USA Compression Partners.
---
2002
David Searle has joined Tesla, Inc. as deputy general counsel and senior director of compliance. He most recently was international chief ethics and compliance officer at Walmart.
---
2004
Xavier Baker has joined the healthcare industry team at Sheppard, Mullin, Richter & Hampton as a partner in the Washington, D.C. office. He previously practiced at Crowell & Moring.
John Miller is a practicing family medicine physician. He has joined the staff at Olympic Medical Center in Port Angeles, Wash., after running a private family medicine practice in Mississippi.
---
2005
Gretchen Bellamy has joined McDonald's Corp. as senior director — diversity, equity & inclusion for international markets. She previously served as a senior director in the Office of Diversity and Inclusion at the University of North Carolina at Chapel Hill.
Dylan Fuge has been appointed as general counsel at the New Mexico Energy, Minerals and Natural Resources Department. He previously was responsible for nationwide local permitting at T-Mobile. Dylan earlier spent six years at the U.S. Department of the Interior as counselor to the director of the Bureau of Land Management and attorney adviser to the Office of the Solicitor.
Timothy Gould has been appointed by North Carolina Gov. Roy Cooper as a superior court judge in Judicial District 19C serving Rowan County. He had served as an assistant district attorney in Rowan County since 2009.
Adrienne McFadden has been named chief medical officer at Buoy Health, a Boston-based digital health company. Adrienne, who also earned an MD at Duke University, most recently served as vice president for Medicaid clinical at Humana Insurance.
---
2006
Audry Casusol has joined Cleary Gottlieb Steen & Hamilton as a partner in the New York City office. Her practice focuses on employment law, executive compensation, and employee benefits matters. Audry previously was a partner at Sidley Austin.
Adam Doerr, a litigator at Robinson Bradshaw, has received a 40 Over 40 Award from the Charlotte Ledger. The awards celebrate local unsung heroes 40 years or older who are doing great things in the Charlotte community. In late 2020, Adam led a pro bono effort to facilitate equity in the way the North Carolina Department of Revenue distributed Extra Credit Grants and to assist and raise awareness of the application process for receiving COVID-19 relief aid. He is in his second year leading the Mecklenburg County Bar's Diversity & Inclusion Committee and he recently served as chair of the Bar's Charlotte Legal Diversity Clerkship program.
Marcus LeBeouf has joined the National Hockey League's Chicago Blackhawks as the team's first general counsel. He joins the Blackhawks after almost four years as assistant general counsel of the National Basketball Association's Charlotte Hornets. Marcus is among the first three Black legal chiefs employed by an NHL team, all of whom have been recruited within the past year.
Ian Millhiser has authored The Agenda: How a Republican Supreme Court is Reshaping America (Columbia Global Reports, 2021). Ian is a senior correspondent at Vox Media, Inc., where he focuses on the Supreme Court, the Constitution, and the decline of liberal democracy in the United States. He earlier was a correspondent at ThinkProgress.
Amy Yeung, general counsel and chief privacy officer at Lotame Solutions, Inc., has been recognized by Law.com and Corporate Counsel as a 2021 Women, Influence & Power in Law honoree in the "Thought Leadership — In House" category.
---
2007
Shardul Desai has joined the Washington, D.C., office of Holland & Knight as a partner focusing on cybersecurity, data privacy, and white-collar defense and government investigation. He previously was a federal prosecutor in the Cyber and National Security Section and the Economic Crimes Section at the U.S. Attorney's Office for the Western District of Pennsylvania.
Carlton Fleming has joined Sidley's global life sciences practice as partner in the firm's San Francisco office, where he represents leading life sciences and technology companies. Carlton was previously a partner at Cooley.
Giovanna Moscoso has been appointed as an independent director to the board of directors of Palladium One Mining, Inc. She previously was a partner, vice president, and assistant general counsel at Barrick Gold Corporation.
---
2008
Daniel Simon has joined McDermott Will & Emery as a restructuring partner in the firm's Atlanta office. He previously was a partner and associate at DLA Piper.
Sarah Hawkins Warren, a justice on the Georgia Supreme Court, was the featured commencement speaker, on May 8, at Berry College in Mount Berry, Ga., where she serves on the board of trustees.
---
2009
Jennifer Brevorka has been promoted to counsel in the Toronto litigation boutique Henein Hutchison, where she practices civil and criminal law. She frequently represents officials or executives accused of wrongdoing by employers, prosecutors, or government regulators.
Genaira Tyce has joined Ackerman's New York office as a labor and employment law partner. She previously was a senior field attorney for the National Labor Relations Board.
---
2010
Virginia Fitt has been promoted to vice president and head of legal and compliance for biopharmaceutical company ChemoCentryx, Inc. She joined the company in 2020 as head of commercial law and compliance. She previously served as counsel at Alexion Pharmaceuticals and GSK.
David Fry has been honored by the ACLU of Delaware for his contributions to voting rights litigation in the 2020 elections. He has worked on several cases with the ACLU of Delaware in recent years. David is a partner at Shaw Keller in Wilmington, where his practice focuses on patent infringement and complex commercial litigation.
Beth Hatef has joined the international food and beverage practice at Davis Wright Tremaine as counsel in the firm's Washington, D.C., office. Beth's practice focuses on alcohol regulation and distribution issues. She previously practiced at McDermott, Will & Emery.
David Mandell has recently completed a two-year term as legal counsel to the Office of the President of the Republic of Palau.
Steve McIntyre has been elected partner in the Los Angeles office of O'Melveny, where he represents clients in civil and criminal investigations, government enforcement actions, and high-stakes private litigation.
Catherine Singer has been elected shareholder at GM Law, a boutique litigation firm in Kansas City, Mo. She and her husband, Daniel, welcomed a second child, Rigby Singer, on Nov. 23, 2020.
---
2011
Cassandra Lenning has been promoted to partner in the New York office of employment law firm Outten & Golden. She is part of the firm's individual practice group where she represents employees and executives in litigation, arbitration, and negotiation matters.
Matt Tappin has been appointed vice president of corporate development at Stem, Inc., a global leader in artificial intelligence-driven clean energy storage services. He also joins the Stem executive leadership team. He previously held senior corporate development positions at Royal Dutch Shell and Centrica.
Alex Wilson, a corporate partner in the Raleigh office of Wyrick Robbins, has been appointed to the North Carolina State Banking Commission by Gov. Roy Cooper. The commission supervises, directs, and reviews the activities of the Office of the Commissioner of Banks under North Carolina banking laws.
Erica Wilson has been elected partner at Troutman Pepper, where her practice focuses on corporate law and mergers and acquisitions in the Berwyn, Penn., office.
---
2012
Zach Anderson has joined Chamberlain Hrdlicka's Atlanta office as an associate. His practice is primarily devoted to commercial litigation and construction law. He previously worked at litigation boutique Mills Paskert Divers in Atlanta.
Nakita Cuttino has joined the faculty of Georgetown Law as an associate professor of law. She previously was a visiting assistant professor of law at Duke Law and earlier practiced as a corporate associate with Simpson Thacher & Bartlett in Houston and New York, where she specialized in complex debt finance transactions. Nakita's scholarship examines the interplay between financial innovation, private ordering, and regulation to address economic inequality.
Jennifer Dickey has been named associate chief counsel at the U.S. Chamber Litigation Center, the litigation arm of the U.S. Chamber of Commerce. Jennifer most recently was acting assistant attorney general and principal deputy assistant attorney general in the Civil Division at the U.S. Department of Justice.
Sarah Elliott has been named partner at Porter Hedges, based in Houston. She represents clients on a variety of corporate matters with a focus on debt and equity finance.
Shamika Haldipurkar has started a direct-to-consumer brand of beauty and skin care products, "d'you," in Mumbai. The brand's first product, a multi-purpose product called Hustle, recently won a Best Serum in India award at the Micro Beauty Awards.
Hassan Kanu has joined Reuters as a full-time columnist, writing on issues of justice and equality under the law. He previously was legal editor at Bloomberg BNA.
J.P. Long has been elevated to partner at Finnegan, Henderson, Farabow, Garrett & Dunner in Washington, D.C., where he assists clients with various intellectual property matters involving high technology, including litigation, licensing, and patent portfolio management.
Ryan O'Quinn has been elevated to partner at Finnegan, Henderson, Farabow, Garrett & Dunner in Reston, Va., where he maintains a versatile practice focusing on U.S. district court patent litigation, post-grant proceedings at the U.S. Patent and Trademark Office, patent prosecution, and portfolio management and counseling.
---
2013
Serena Rwejuna, an associate in the energy practice at Jones Day in Washington, D.C., has been nominated by the firm to serve as a 2021 Leadership Council on Legal Diversity (LCLD) fellow. The LCLD Fellows Program is designed for diverse, high-potential lawyers working in law firms and in-house legal departments.
Joseph Silver, a partner at the disability and personal injury law firm Silver & Silver, has been reappointed as co-chair of the social security disability committee of the Philadelphia Bar Association. He also co-chairs the association's disability law committee. Joseph represents disabled Social Security claimants at both the administrative and federal court levels.
---
2014
Mary Pat Dwyer has joined the Brennan Center for Justice as a liberty and national security fellow. She previously was litigation counsel at O'Melveny & Myers in Washington, D.C.
Prerna Dhoop has joined the faculty of the National Law School of India University, Bangalore as an assistant professor. She taught at the National University of Legal Studies and Research, Hyderabad-Telangana, India from 2016 to 2019.
---
2016
Hunter Bruton has joined the Washington, D.C., office of Jones Day, where he focuses on appellate advocacy and motions practice. He clerked for United States Supreme Court Associate Justice Samuel A. Alito, Jr., during the 2019-2020 term of the Court.
Elliot Chen has joined the Los Angeles office of Ervin Cohen & Jessup, where he is an associate in the firm's litigation practice group, focusing on complex business and corporate litigation.
---
2017
Rosemary Chandler Wells has joined the Charlotte office of Robinson Bradshaw where she practices corporate law, with a focus on mergers and acquisitions and private equity transactions. She was previously an attorney at McGuireWoods in Charlotte.
---
2018
Cheri Beasley has joined the litigation and appellate teams at McGuireWoods in Raleigh as a partner. She most recently served as chief justice of the Supreme Court of North Carolina, having served on that court since 2012. Prior to that, she served on the N.C. Court of Appeals and as a district court judge.
Mark Davis was nominated by Gov. Roy Cooper and has been appointed special superior court judge on the North Carolina Business Court for a term that began July 1. Judge Davis is also visiting distinguished jurist in residence at Elon University School of Law. Previously he was an associate justice on the Supreme Court of N.C., and an associate judge on the N.C. Court of Appeals.
Chaniece Mulligan has joined the Atlanta office of Kilpatrick Townsend & Stockton where she is an associate in the mergers, acquisitions, and securities practice. She previously was an associate at Skadden, Arps in New York.
---
2020
Samantha Smith has joined the Dallas office of Weil Gotshal & Manges as an associate in the commercial litigation practice.
Fall 2021
Volume 40 No. 2
Kudos
---
The following alumni have been recognized by their peers for excellence in their respective specialty areas as listed in such publications as Best Lawyers in America, Super Lawyers, Chambers USA, Law 360, BTI Client Service All Stars, and Thompson Reuters. See details here. This list reflects notifications received by Aug. 31, 2021, and includes such designations as "Rising Stars."
Ron Frank '72
James Ummer '72
Mark Prak '80
Kirk Warner '83
Dan Douglass '85
Rhonda Tobin '90
Caryn Coppedge McNeill '91
Paul Genender '94
Subhash Viswanathan '95
Alex Parker '96
Norwood Blanchard III '99
Alex Dale '01
Krista Patterson '06
John Jo '06
Yaniv Adar '08
Justin Outling '08
James Healy '09
Isaac Linnartz '09
Joseph Apatov '11
Serena Rwejuna '13
Joseph Silver '13
Sam Bivins '14